Shoko Asahara and the Aum Gas Attack
September 1999
By Rick Ross
In March of 1995 a Japanese cult called "Aum Supreme Truth" released deadly Sarin gas within the subways of Tokyo. Four people died immediately and thousands were rushed to hospitals. This unprovoked attack profoundly changed the Japanese perception of cults and shocked the world.
Later it was learned that this was not the first violent act of the cult. In 1989 Aum's leader Shoko Asahara ordered the abduction and murder of an anti Aum lawyer, his wife and infant son. Less than a year before the Tokyo gas attack (June 1994) Aum members released Sarin gas in Matsumoto killing seven residents.
Shoko Asahara now 45 was born Chizuo Matsumoto into a poor family living in the Kumamoto Prefecture of Japan. Visually impaired, he went to a special school for the blind. Not unlike other cult leaders from childhood Asahara saw himself as a great leader and later had political ambitions. But Tokyo University rejected him. In his late twenties Asahara became spiritual and wandered India supposedly seeking and then receiving enlightenment while in the Himalayas. At 35 he returned to Japan and in 1984 founded his religious society called "Aum" (English "OM").
Aum is a composite belief system, which incorporated Asahara's own idiosyncratic interpretations of Yoga along with facets of Buddhism, Christianity and even the writings of Nostradamus. In 1992 Asahara published a book, within which he declared himself "Christ," Japan's only fully enlightened master and the "Lamb of God." His purported mission was to take upon himself the sins of the world. Asahara said, he could transfer to his followers spiritual power and ultimately take away their sins and bad Karma. He also saw dark conspiracies everywhere promulgated by Jews, Freemasons and rival Japanese religions.
Ultimately, Asahara outlined a doomsday prophecy, which included a Third World War. This scenario foretold the eruption of Mt. Fuji and also what would later prove to be a self-fulfilling prediction--the gas attack upon Tokyo. Asahara's final conflict would culminate in a nuclear Armageddon. Humanity would end, except for an elite few. Aum's mission was not only to spread the word of "salvation," but also to survive these "End Times."
Aum's efforts to fulfill Shoko Asahara's vision of Armageddon led to a vast recruitment effort. This often included proselytizing professionals from the Japanese scientific community. According to court testimony the expertise of these Aum professionals led to the development of the cult's chemical and biological weapons. Aum's search for new weapons included a "medical mission" in 1992 to Zaire, supposedly to help fight an outbreak of the Ebola virus, but actually devised to obtain a strain of that virus for use in biological warfare. Aum also purchased gas masks in the United States to strategically develop defensive equipment that complemented its growing offensive arsenal.
Aum's radio broadcasts became both increasingly paranoid and virulent. Asahara incessantly attacked the Jews and even the British Royal Family as principals in conspiracies. He named the United States as the Beast from the Book of Revelations predicting America would eventually attack Japan.
Aum's Tokyo gas attack was supposedly the spark that would set off Asahara's prophetic vision of a final conflict. However, members of the cult later confessed this was also seen as a means to delay and/or prevent anticipated government action against the group. It was a brutal demonstration of their power and a warning of their willingness to use it. Asahara's last taped broadcast to his followers called upon them to rise up and carry out his plan for salvation and to "meet death without regrets."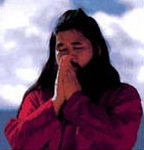 Shoko Asahara
Two days after the Tokyo gas attack 2,500 police and military personnel raided Aum's Kamukuishiki complex and two dozen more of the cult's properties simultaneously across Japan. Large stockpiles of gas-making chemicals and related equipment were found. Aum members and the cult's leader were arrested.
At court proceedings in January 2000 Aum members finally admitted that Shoko Asahara planned and ordered a series of crimes, which culminated in the 1995 Sarin gas attack in Tokyo. As the Japanese judicial system slowly proceeded against Aum many members were sentenced to prison terms and some to death by hanging.
Thousands of Japanese demonstrated against Aum and "anti Aum" laws were passed. The cult was stripped of much of its assets through claims filed by victims of its gas attack. In January of 2000 Aum claimed to have both a new leadership and new name--it is now called "Aleph."
Imprisoned cult leader Shoko Asahara received a death sentence in February of 2004 regarding 13 criminal cases. His lawyer filed an appeal. Asahara remains in prison and his lawyers claim the cult leader is "mentally incompetent." He reportedly is confined to a wheelchair, incontinent and unable to respond to anyone in an intelligible manner.
Despite this the guru continues to garner the devotion of many remaining followers that insist he is a "spiritual being."
Aum now known as "Aleph" has shrunk to a reported 1,100 members and is led by Fumihiro Joyu, a former subordinate of Asahara. However, recent reports say that there is split in the group due to an intensifying rivalry, between the faction still loyal to the imprisoned guru and those that follow Joyu.
Notes:
"Key Events For Japan's Aum Supreme Truth Doomsday Cult" Yahoo! Asia News, July 17, 2000
"Nerve Gas and the Four Noble Truths" The New Yorker, April 1, 1996 by Murray Sayle
"Aum blames Asahara" Mainichi Shimbun, January 19, 2000
"Aum changed name on Asahara's orders" Mainichi Daily News, April 13, 2000
"AUM followers number 1,151, up 11 from August" Kyodo News Service/November 15, 2000
"Lawyers for Aum cult guru say he's mentally incompetent," Associated Press November 11, 2005
"2 Aum camps vying for ascendancy," The Yomiuri Shimbun November 1, 2005
"High court pushes back deadline for documents in Asahara appeal, Japan Today January 7, 2005