Osama bin Laden and "al Qaeda"
November 2001
By Rick Ross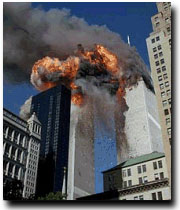 Attack on the
World Trade Center
September 11, 2001
19 members of a militant extremist group called "al-Qaeda," ("the base") led by Osama bin Laden, hijacked four American passenger jets. This included two flights from Boston, Massachusetts and another from Dulles Airport bound for Los Angelse and a flight from Newark, New Jersey headed for San Francisco.
Bin Laden's followers believed their criminal acts were part of a "holy war" or "jihad," which would ultimately transform them into religious "martyrs." The aircraft became flying bombs in suicide missions to destroy the "infidels."
The first passenger jet struck the north tower of the World Trade Center at 8:45 AM and a second hit the south tower 18 minutes later. At 9:43 AM a third airliner was flown into the Pentagon. About 28 minutes later the fourth aircraft, believed targeted somewhere in Washington, crashed instead in the countryside of Pennsylvania. It was subsequently discovered that passengers aboard this flight had heroically struggled to regain control of the aircraft forcing it down.
Within two hours of the first strike both World Trade Center towers collapsed and a portion of the Pentagon lay in ruin. The loss of life was estimated at more than 3,000 in New York City alone, including 343 fireman and 85 police officers. 273 passengers died aboard the four flights, including the 19 hijackers. The Department of Defense reported 125 dead in the Pentagon attack. 
In one-day Osama bin Laden murdered more than 4,000 people in his "jihad" against the "infidels." He would later declare, "The Twin Towers were legitimate targets, they were supporting US economic power." And then boast, "These events were great by all measurement. What was destroyed were not only the towers, but the towers of morale in that country."
But bin Laden's group was not just another terrorist organization. Nor did it fit the mold of typical Moslem extremists. Instead, as more information became widely known about the group's dynamics and its leader, "al Qaeda" fit the familiar pattern of a destructive cult. Jack Straw, Britain's foreign secretary compared the cult of personality built around Osama bin Laden to Adolf Hitler and stated that it was "similar to the Nazi phenomenon." And in a chilling admission recorded after September 11th on video tape bin Laden admitted, "We calculated in advance the number of casualties who would be killed based on the position of the tower.''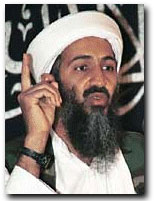 Osama bin Laden
Osama bin Laden
Osama bin Laden was the son of a Yemen born billionaire, who built a business empire based in Saudi Arabia. Osama's mother, a Syrian, was his father's fourth wife. One family friend said of bin Laden, "In a country that is obsessed with parentage, with who your great-grandfather was, Osama was almost a double outsider."
According to his half brother Yeslam bin Laden, now a Swiss citizen, there are 54 siblings within the family, which ultimately included 20 different mothers. Each wife was given a separate house. And because Osama was the only child of his mother, he had very little contact with his extended family.
Interestingly, bin Laden's mother was certainly not an Islamic fundamentalist. She was instead a sophisticated and well traveled woman who refused to wear a burka and favored Chanel suits. Like many Arab children of his class, bin Laden's early life was isolated and filled with nannies, tutors and servants.
In 1968 bin Laden's father died leaving his 13-year-old son $80 million dollars. Eleven years later Osama graduated from King Abdul-Aziz University, in Jidda, with a degree in civil engineering. His early years as a young adult included nightclubs in Beirut, free spending and fun. According to one acquaintance he was "a heavy drinker who often ended up embroiled in shouting matches and fistfights with other young men over an attractive night-club dancer or barmaid." Ironically, bin Laden would eventually embrace Wahhabism, a very strict Islamic sect prevalent in Saudi Arabia. This sect punishes those who enjoy any music other than the drum and may put a man to death for drinking or sexual misconduct.
Afghanistan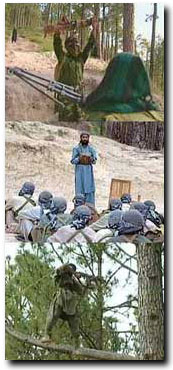 Terror Training Camp
Bin Laden increasingly saw himself on a religious mission and Afghanistan eventually became his focus. He traveled there to fight the Russian "infidels."  A heroic mythology developed around the wealthy young Arab. Former CIA station chief in Pakistan Milt Bearden said that Arab sympathizers like bin Laden "were bringing in up to twenty to twenty-five million dollars a month...to underwrite the war...an extra two hundred to three hundred million dollars a year. And this is what bin Laden did. He spent most of the war as a fund-raiser, in Peshawar. He was not a valiant warrior on the battlefield." According to another observer bin Laden "fought in only one important battle."  He did effectively manage his investments, which increased both his wealth and influence. Along the way bin Laden also accumulated four wives and ten children.
At the end of the Afghanistan war in 1991 the Saudi royal family expelled and denounced bin Laden. In 1994 he was stripped of his Saudi citizenship. From '91 to '96 he lived in Sudan, until that country also asked him to leave.
Bin Laden's last refuge ultimately became Afghanistan. The Taliban, a fanatical faction struggling to win a civil war needed money. Bin Laden gave the group's leader Mullah Omar three million dollars at a crucial point and the war turned decisively. In 1996 the Taliban took Jalalabad and ten days later Kabul the capital. Bin Laden sealed his hold on the Taliban when Omar married one of his daughters.
From his safe haven in Afghanistan bin Laden planned and executed further terror attacks. Four Al Qaeda members were found guilty of staging the August 1998 suicide bombings of US embassies in Kenya and Tanzania that killed 224 people. Bin Laden was charged in the 308-count indictment as the leader of the conspiracy. A $5-million reward was offered for information leading to his arrest.
"Cult of evil"
President George W. Bush called the al-Qaeda network "a cult of evil."
Robert Jay Lifton, noted psychiatrist and author of "Thought Reform and the Psychology of Totalism," the definitive book about "brainwashing," has outlined three primary characteristics, which define destructive cults.
| | |
| --- | --- |
| 1. | A charismatic leader [is clearly evident] who increasingly becomes an object of worship as the general principles that may have originally sustained the group lose their power. |
Osama bin Laden occupies a singular position at the top of al Qaeda's hierarchical structure. He is the focus of the group, its locus of power and defining element. Bin Laden has assumed a messianic and heroic role of  virtual mythological proportions. Simultaneously the Islamic principles, which supposedly were the basis for al-Qaeda, have faded in relative importance. David Long, former State Department official and terrorism expert once observed, "If you were to kill Osama tomorrow, the Osama organization would disappear." Al Qaeda became a personality-driven cult. 
2. A process [called] coercive persuasion or thought reform.
According to the Cult Information Center of Great Britain, al-Qaeda indoctrinated its members and formed a closed, totalitarian society. This was accomplished through months spent within isolated training camps controlled by bin Laden. Such camps are not unlike other cult compounds of the past, which have produced brainwashed followers after prolonged periods of isolation and indoctrination. Lifton based his own research upon Prisoner of War (POW) camps maintained by the Communists during the Korean conflict.
| | |
| --- | --- |
| 3. | Economic, sexual, and other exploitation of group members by the leader and the ruling coterie. |
Al Qaeda appears to echo a similar cult from a millennium ago led by Hassan i Sabbah, a mystic, alchemist and terrorist.  Hassan's Order of Assassins, like al-Qaeda, deployed suicide killers. They likewise believed that through their sacrifice they could enter the gates of Heaven. Hassan, similar to bin Laden, also allowed his followers to experience pleasures on Earth before their deadly missions. The assassins drank wine, used hashish and enjoyed sex with courtesans. A thousand years later, al-Qaeda's hijackers drank heavily and sought prostitutes before their suicide attacks. Both bin Laden and Hassan exploited their followers very lives for their own agenda.
Margaret Singer, Professor Emeritus of Psychology, University of California, Berkley is a noted researcher, has counseled thousands of former cult members and is the author of "Cults in Our Midst." Within her book Singer outlines six conditions, which can create and mold a destructive cult mindset.
1. Keep the person unaware of what is going on and the changes taking place.
Operating through a façade of supposed "Islamic beliefs" and the claimed cause of "liberation," bin Laden frequently recruited young idealistic people. It appears though, that the actual expectations of al-Qaeda are revealed in stages, only after months of intense indoctrination. It is unlikely that a new member initially fully understood the totality of what his commitment might ultimately be. One captured al-Qaeda member Al-Owhali testified that he was first trained within an al-Qaeda camp in Afghanistan for a month and then graduated to the "jihad camp." Only after the conclusion of his training was the possibility of a "mission," discussed, which might lead to his "martyrdom."
Osama bin Laden later admitted to his supporters in a discussion recorded on video tape, "The brothers who conducted the operation, all they knew was that they have a martyrdom operation and we asked each of them to go to America, but they didn't know anything about the operation, not even one letter. But they were trained and we did not reveal the operation to them until they are there and just before they boarded the plane."
2. Control the person's time and, if possible, physical environment.
Within al Qaeda training camps each recruit's time is monopolized and the environment is carefully controlled.
John Walker, an American who fought for the Taliban and was captured within Afghanistan, moved through a step-by-step process of persuasion and intense indoctrination. That process began some years after his initial seemingly benign conversion to Islam. The crucial juncture appears to have been his involvement with a missionary from an extremist group called the Tablighi Jamaat, who became a profound influence. That missionary dominated Walker's time and ultimately convinced the young American to come with him to Pakistan and enroll within a Islamic fundamentalist school called a madrassa. Within this controlled environment he began a process of transformation. Later he entered an al-Qaeda training camp within Afghanistan where he became totally cut off from the outside world. His parents did not hear a word from him. When Walker's mother wrote in May 2001, "I really need to hear your voice," she received no response.
3. Create a sense of powerlessness, covert fear, and dependency.
Al-Fadl, once an active bin Laden devotee, told a jury about the culminating event, which effectively marked the conclusion of his indoctrination. He was instructed to "follow the rule." The rule was clarified through a secret rite, an oath of allegiance to Osama bin Laden and al-Qaeda called the bayat. This oath signified not only each recruit's submission to al-Qaeda, but also dependency upon bin Laden himself for guidance. Recruits were told that Muslims were under attack and Islam itself was in endangered. "The snake is America" bin Laden told Al-Fadl and other al-Qaeda members, "and we have to stop them. We have to cut the head of the snake."
4. Suppress much of the person's old behavior and attitudes.
Zacarias Moussaoui, a French Moroccan educated in both Britain and France, apparently was to have been the 20th hijacker on September 11th.  It seems he underwent a radical personality change. His brother claimed that the young man once loved America, blue jeans, basketball and Bruce Springsteen, but was "brainwashed."
The mother of John Walker likewise felt her son was a "victim" of coercive persuasion. Once a "good boy" who was "sweet" and "shy" his personality became so changed she surmised that her son must have been "brainwashed."
The suspected leader of the September 11th hijackers, Mohamed Atta, worked himself into a trance before stepping onto the plane through a repetition of prayers. Jim Siegelman, co-author of the book "Snapping" with Flo Conway, points out that "Saying a prayer a thousand times--that's just a way of jamming anything human from coming into his brain.'' Flo Conway explains that thought-stopping techniques, such as extended repetition of prayers and chants, literally destroy a person's ability to think. Al Qaeda devotees often videotaped their own suicides. On such tapes the suicide bombers can be seen  listening to audiocassettes of chanted praises given for those willing to die, before boarding their trucks loaded with TNT.
5. Instill new behavior and attitudes.
Zacarias Moussaoui was later arrested after he raised suspicions at a Minnesota flight school by telling instructors he wanted to learn to fly a jetliner, but did not want to learn to land. He also asked about opening cabin doors while planes were in flight. His computer was found with data related to jetliners and crop-dusters. The college student who once loved America learned to hate it. Aicha Moussaoui his mother reaffirmed, "They had put him through a real brainwashing."
John Walker converted to Islam as a California teenager. He initially saw his new faith as a "gentle, peace-loving religion." But through an indoctrinational process, which began in Yemen, included fundamentalist Islamic schools in Pakistan and then ended within the training camps of al-Qaeda in Afghanistan, Walker ultimately became "Abdul Hamid," a self-described "jihadist," a holy warrior, carrying an AK-47 who told reporters he "supported" the September 11 terrorist attacks.
6. Put forth a closed system of logic; allow no real input or criticism.
Steve Dubrow-Eichel, a psychologist who has professionally counseled many cult members explains that cult fanatics "sound strikingly like hygienists, who seek to 'clean' or 'sanitize' an environment." The not so cryptic implication of this analogy is chilling. He concludes, "The actions necessary for 'hygiene' and 'health' then become logical as well as obvious: Destroy that which causes or encourages disease. To the hygienist, that means destroying germs and their breeding grounds." Ultimately this mindset may lead to "destroying 'diseased' people," because as Dubrow-Eichel explains, "they are all capable of infecting those who would otherwise become or remain 'pure.'"
Osama bin Laden has labeled President George W. Bush "The biggest Crusader...under the banner of the cross," and he sees the United States as simply "American crusaders." Bin Laden described one of his terrorists attacks this way, "The destroyer [USS Cole] represented the West, and the small boat [with suicide bombers] represented Muhammad." As Dubrow-Eichel observes, cult fanatics employ an "'us vs. them' language to divide the world in a polarized manner between that-which-promotes-health vs. that-which-causes-illness. The fanatic does not distinguish between military personnel and civilians." Bin Laden made this clear in a statement circulated to his supporters on videotape, "Those who talk about civilians should change their stand and reconsider their position. We are treating them like they treated us." In another video taped discussion bin Laden claims, "I was ordered to fight the people until they say there is no god but Allah, and his prophet Muhammad.'' And concludes, "This event made people think (about true Islam) which benefited Islam greatly.''
Islamic Leaders
Osama bin Laden declared that his acts of terrorism are actually "the battle of Islam in this age" And casting himself in a messianic role explained,  "We are firm on the road of jihad for the sake of God"
Bin Laden made two declarations of holy war, or as he claimed "jihad," against America. The first in 1996 was directed at "Americans occupying the land of the two holy places." This is a reference to Saudi Arabia, where 5,000 U.S. troops remained stationed since the 1991 Persian Gulf War. The two holy places are the Muslim shrines at Mecca and Medina. In 1998, he expanded his edict to include killing "Americans and their allies, civilians and military...in any country in which it is possible to do it."
But like other cult leaders of the past, such as David Koresh or Jim Jones who claimed the bible was their  basis for action, bin Laden's proclamations contradict the faith he claims they are based upon. "It violates the very foundations of Islamic law," says Imam Yahya Hendi, Muslim chaplain at Georgetown University. The Grand Mufti of Saudi Arabia, Sheik Abdulaziz bin Abdallah al-Sheik  advised, "Jihad for God's sake is one of the best acts in Islam, but killing oneself in the midst of the enemy, or suicidal acts, I don't know whether this is endorsed by Sharia [Islamic law] or whether it is considered jihad for God. I'm afraid it could be suicide." Islamic scholar Bernard Lewis of Princeton wrote in a 1998 article for Foreign Affairs,  at no point do basic Islamic texts even consider "the random slaughter of uninvolved bystanders."  
Sheik Muhammad Rafaat Othman teaches Islamic law at the most prestigious Islamic school in the Middle East, Cairo's Al-Azhar University. He states emphatically, "You can expose yourself to a situation where you might get killed. But you can't knowingly take your life. Attacking innocent, unarmed people is forbidden. Prophet Muhammad demanded that we not kill women, children or the elderly. Attacks should be against soldiers and armed civilians. I don't see any evidence of exceptions to this rule." But bin Laden stated in a video distributed amongst his supporters, ""Yes, we kill their innocents and this is legal religiously and logically." And then referred to the NYC twin towers as a "legitimate target" and his hijackers as "blessed by Allah."
Understanding cult leaders like bin Laden perhaps requires psychiatric analysis, and such personalities have often been categorized as psychopaths. Osama bin Laden, not unlike his corresponding predecessors from the past, such as David Koresh or Marshall Applewhite (a former mental patient), was described as both "paranoid" and "psychotic" by the British Foreign Secretary. Secretary Jack Straw said, "A key characteristic of people who are psychotic and paranoid is the sense of complete detachment from the suffering of others." In a video distributed to his followers bin Laden seemed to confirm such descriptions saying, "There are two types of terror, good and bad. What we are practicing is good terror. We will not stop killing [Americans] and whoever supports them. The towers were filled with supporters of the economical powers of the United States."
Some cults implode, such as the 913 followers of Jim Jones who died at Jonestown or the many devotees of David Koresh who chose to die by fire rather than surrender. But other cults have exploded like Aum, led by Shoko Asahara, found guilty of gassing Tokyo's subways. John R. Hall, co-author of "Apocalypse Observed: Religious Movements and Violence in North America, Europe and Japan" explains that  there are "apocalyptic" "warring" groups, which seek to "bring on the final battle of Armageddon by launching a holy war against the existing social order." He concluded, "Osama bin Laden's al-Qaeda is definitely [this] type; indeed, it is a classic case."
Bin Laden like Marshall Applewhite of "Heaven's Gate" promises his followers supernatural rewards if they are willing to commit suicide. Applewhite promised a "level above human" and bin Laden says his followers will experience "a martyr's privileges...guaranteed by Allah." In his 1996 decree bin Laden said fighting the United States will "double" those supernatural rewards and boasted to Americans that his followers will "enter paradise by killing you."
Stephen Kent, a professor of the psychology of religion at the University of Alberta in Edmonton, Canada concludes, "The common refrain of former cult members is that they would've died for their leader, suicide for a holy cause is not as mysterious as it first seems.''  Flo Conway offered this final analysis, "The hardest thing to understand is that the mind itself can be captured and made into a machine.''
Notes:
"September 11: Chronology of Terror" CNN on line September 12, 2001
"The Victims" CNN.com In Depth Archive September 2001
"Firefighters: The new all-American heroes"  BBC News, October 15, 2001 By Joseph Winter
"The Real bin Laden" The New Yorker, January 24, 2000 By Mary Anne Weaver
"A Merger of Mosque and State" Newsweek. October 15, 2001
"Man's Brother Talks of Brainwashing" Associated Press, October 5, 2001
"Mother: Detained Son "Brainwashed" Associated Press, September 20, 2001
"A Guide to Islamic Sects" The Commercial Appeal, September 23, 2001
"Life Inside Al Qaeda: A Destructive Devotion" Los Angeles Times, September 24, 2001 By Mark Fineman and Stephen Braun
Statement of Osama bin Laden released to Al-Jazeera Television translated by Reuters
"Inside the Mind of Osama bin Laden" The Washington Post, September 20, 2001 By Michael Dobbs
"A Peaceful Faith a Fanatic Few" Newsweek, September 24, 2001 By Kenneth L. Woodward
"Apocalyptic cult methods explain bin Laden," By Patricia Pearson, USA Today November 5, 2001
"The cult figure we could do without," By Mary Ann Sieghart, The Times (London)/October 26, 2001
"Experts explain terrorist training," By Thrity Umrigar, Akron Beacon Journal/October 24, 2001
"The Mind of the Fanatic," By Steve K. Dubrow-Eichel, Wilmington Delaware News/September 23, 2001
"Cult Formation," By Robert Jay Lifton, M.D. The Harvard Mental Health Letter, February 1981
"Straw: Bin Laden is 'psychotic'," CNN November 6, 2001
"Bin Laden: Yes, I did it," The London Daily Telegraph Nov. 11, 2001
"In the Shadow of Osama" Newsweek Magazine interview with Yeslam Binladin, November 19, 2001
"We were overjoyed when the plane hit the building" Guardian, London, By Simon Jeffrey December 12, 2001
"A Long, Strange Trip to the Taliban" Newsweek December 17, 2001