"Heaven's Gate" Suicides
October 1999
By Rick Ross
In March of 1997 thirty-nine people, 21 women and 18 men were found dead in a mansion within the exclusive neighborhood of Rancho Santa Fe near San Diego in the United States. They ranged in age from 26 to 72 and came from nine different states within the US. The thirty-nine bodies were identified as members of a cult group, which later came to be known as "Heaven's Gate."
The bodies were found dispersed within the mansion on cots and mattresses. All but two had shrouds of purple covering their heads and shoulders. Most died of suffocation, induced by plastic bags placed over their heads, after taking a concoction of Phenobarbital and alcohol. Found among the dead was Marshall Herff Applewhite, the 65-year-old leader of the group. Applewhite had a troubled history. In 1970 he checked himself into a psychiatric hospital after hearing voices. He also hoped to find a cure himself of "homosexual urges."
Ironically, it was at that hospital that he met a nurse, Bonnie Lu Trousdale Nettles, whom appears to have fueled his delusions. Applewhite and Nettles became a platonic team and recruited followers, which grew into a group. Nettles could only be separated from Applewhite by death, she died from cancer in 1985.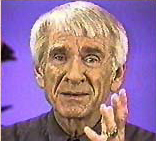 Marshall Applewhite
Unfortunately Marshall Applewhite never resolved his mental illness. Some time after his discontinuation of psychiatric treatment he had himself castrated, apparently an effort to resolve his sexual frustrations. The videotapes of Applewhite's final statements were shown to Louis Jolyon West, professor of psychiatry at the University of California at Los Angeles. Dr. West concluded that the tapes demonstrated Applewhite was "delusional, sexually repressed and suffering from clinical paranoia."
Applewhite taught his followers that he was a messenger from an "Evolutionary Kingdom Level Above Human." He claimed that periodically this higher kingdom sent messengers to earth and that one such previous visitor was Jesus. Applewhite believed he was once "Jesus" in that same "away team" now "incarnated again in...[a] mature (adult) [body] that had been picked and prepped for [his] current mission." He advised that if his followers studied with him, he would become their pivotal link to this higher level. And that only through him would it be possible for them to eventually evolve and shed their human "containers," which were only "vehicles" for this supposed journey.
"Heaven's Gate" itself seemed to evolve and change through its own journey beginning in the 1970s. The group had previously been known as "The Two" (i.e. Applewhite and Bonnie Nettles), "Human Individual Metamorphosis" (HIM), "Te and Do" (Nettles was "Te" and Applewhite "Do") and then "Total Overcomers Anonymous."
Applewhite required his "class" to give up virtually everything. This included families, friends and sex, five of his male followers had themselves surgically castrated like their leader. They also surrendered and/or renounced all their worldly possessions. His "crew" was told they must overcome and do battle spiritually with dark forces known as the "Luciferians" and those they influenced. This became a negative label that could be applied to anyone or anything outside the group.
It was through a process of rigid regimentation that Marshall Applewhite was able to purge his "class" of their individuality and program their minds to accept his doctrines. They were often not allowed to sleep undisturbed, but instead subjected to scheduled interruptions for periodic prayer. They ate the same food, called "formulas" at the same hours," which was referred to as "fuel for the vehicle." They all wore the same haircuts and clothing, which often included gloves, apparently to avoid human contact. Work was even once divided into 12-minute intervals by audible beeps. Communication was at times limited to simply saying "yes," "no," or "I don't know."
This rigid regimentation persisted to the end. All the "Heaven's Gate" members ordered exactly the same last meal and ended their lives precisely alike in virtually every detail.
The members of "Heaven's Gate" were also relatively isolated from the outside world and most often not in touch with their families or old friends. They also had new names, which further broke down their sense of individual identity and personal history. Applewhite controlled information, his followers were not allowed to watch television or read anything by choice, but rather given lists of proscribed literature.
Each member was assigned a partner and encouraged to travel in pairs. One former devotee recalled that this was an important facet of group control, "to keep [members] in the mindset. The partner was there, if [a member was] falling out of what [they] had to do, so [they] wouldn't fall out. It was part of the mind control."
According to Marshall Applewhite the world was merely a "stepping stone" to "the true Kingdom of God." And this world was about to be "recycled" or "spaded under" because its inhabitants had refused to evolve. Only those who were bound together through his teachings could survive by traveling to the next level.
The group's suicide was almost logical within this mindset, since Applewhite insisted that "the Truth can be retained only as one is physically connected with the Next Level, through an Older Member" (i.e. Marshall Applewhite). Thus, without Applewhite there was no hope of transition to the next "Evolutionary Level." When he elected to die his followers were obliged to do likewise. It was the only way they could retain "The Truth" and its required and seemingly necessary final step to enter "the true Kingdom of God."
Everything Applewhite taught his followers was a rejection of their humanity. Perhaps by rejecting his own humanity Marshall Applewhite believed he had finally overcome his own sexual frustrations and mental illness. But the more power he gained over his small group the more intense his madness became, until it finally led to a tragedy that was indeed inhuman.
Notes:
"List of Mass Suicide Victims " By Associated Press, New York Times, March 29, 1997
"Families Learn of 39 Who Died Willingly" New York Times, March 29, 1997 By B. Drummond Ayers Jr.
"Strangers Come to Tell a Tale" Santa Fe Reporter, April 20-26, 1994 By Josh Kurtz
"Final Offer – From the Evolutionary Level Above Human" published by Dimensions/Philosophy-- Science Metaphysics--The Arts, August 1993 By Marshall Applewhite
"A Cult's Two-Decade Odyssey of Regimentation" New York Times, March 29, 1997 By Frank Bruni
"Marshall Applewhite's cry for help" Salon, March 31, 1997 By Jonathan Broder
"Founder Sought to Purge Sexuality Via Cult" Washington Post, March 29 1997 By Marc Fisher and Sue Ann Pressley