Joseph Kibwetere and Ugandan Cult Mass Murder/Suicide
February 2001
By Rick Ross
March 17, 2000 more than 500 members of the African "Movement for the Restoration of the Ten Commandments" entered their small church in Kangngu, within the western region of Uganda. They sang for some hours before the small wooden building was set on fire from inside. The doors were locked and windows boarded and nailed shut. Everyone inside perished. Their charred bodies, including 11 children, were later found by authorities.
Africa reeled in shock as Ugandan police found hundreds more murdered by the cult. According to pathologists who examined their remains some were poisoned, others strangled; many had stab wounds and/or fractured skulls. Their bodies were hidden under houses or thrown down wells and latrine pits. The cult death toll ultimately reached at least 780, though some reports place the final number at more than 1,000. The movement's mass murder/suicide seems to have surpassed Jonestown as the most horrific cult tragedy in recorded history.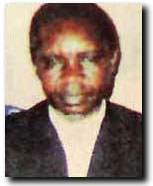 Cult Leader
Joseph Kibwetere

The Movement for the Restoration of the Ten Commandments was founded by Joseph Kibwetere in the late 1980s and at one time may have included as many as 5,000 members. The 68-year-old self-styled "bishop" was once a prominent Roman Catholic and active in Ugandan politics. In 1998 Kibwetere was hospitalized for treatment of a mental illness. "He had an affective disorder. A cyclical thing. Up and down. Like manic depress[ion]," advised Dr. Fred Kigozi, executive director of Kampala's Butabika mental hospital.

Kibwetere claimed to have visions and hear conversations between Jesus and the Virgin Mary. He said the Virgin Mary complained about the world's departure from the Ten Commandments. And subsequently, that he was commanded to announce a coming Apocalypse in the year 2000.

Kibwetere authored a handbook, which foretold a litany of coming calamities that would destroy most of the world's population. He said only those who obeyed the commandments and followed him might be spared within his church, which he called the "ark."

A Catholic priest Dominica Kataribaabo joined the movement and became a leader below Kibwetere. But Joseph Kibwetere's special revelation led to expulsion and eventual excommunication for both men from the Roman Catholic Church. The past Bishop of Mbarara Diocese said, "Kibwetere claimed that he could talk to God, which was unacceptable."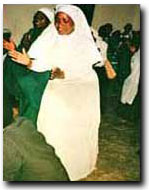 Credonia Mwerinde, prominent and
powerful Ugandan cult leader

Joseph Kibwetere merged his leadership with a former prostitute named Credonia Mwerinde often called the "programmer." Some say Mwerinde, who claimed to have met the Virgin Mary, ultimately eclipsed the cult's founder in both real importance and power. Fr. Paul Ikazire, a priest and former cult member said she dominated the group and that "Kibwetere was just a figurehead." He characterized Mwerinde as "a trickster, obsessed with the desire to grab other people's property." The Virgin Mary as channeled through Mwerinde proscribed all the rules of the group.

Credonia Mwerinde preached that personal possessions were evil. She encouraged cult members to sell everything and surrender all their assets to her. Eventually Mwerinde became rich and accumulated farms, houses and cars. Paul Ikazire recalled, "She would come in and say things like: 'The Virgin Mary wants you to bring more money."'

Kibwetere and Mwerinde kept their followers isolated. Any contact with outsiders ("sinners") was strictly monitored and often forbidden. Cult members were predominately poor and former Catholics. They were encouraged to be celibate, sworn to a vow of silence and unable to speak unless in prayer. They often relied upon sign language.

The movement's members rose at dawn, prayed until noon and worked long hours in the fields before going to bed usually at 10 PM. Though newcomers were fed well the regular members largely subsisted on beans. They were hungry, tired, estranged from family and largely cut off from the outside world.

Doomsday predictions were made by the cult's leaders, but pushed forward again and again. Kibwetere's manifesto handbook had been mailed out by the thousands, which was titled "A Timely Message From Heaven: The End of the Present Time." The date for this final event was set for December 31, 2000. When that day passed as another unfulfilled prophecy it is believed that some disgruntled members wanted to leave and have their property returned.

On March 15, 2000 (two days before the church fire) Kibwetere issued a "farewell" letter to government officials. That letter spoke of the imminent end of the current generation and the world. Similar sentiments were expressed in a previous communication, which said "God sent us as a movement of truth and justice to notify the people to prepare for the closing of this generation, which is at hand." One official reflecting upon Kibwetere's last letter recalled, "The person who brought the letter bid farewell to the...staff. It was pre-meditated suicide."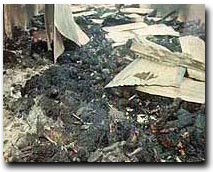 Hundreds burned to death
within Ugandan Church

Joseph Kibwetere's family says he is dead. His body has not been positively identified, but a ring believed to be Kibwetere's was found on a finger amongst the rubble of the burned church. Police never recovered the body of Dominic Kataribaabo, but did find his 1997 passport.

There are conflicting claims regarding Credonia Mwerinde. At one point the police claimed to have identified her body. But some people speculate she is still alive. Cult survivors claim she killed the other leaders before fleeing. One local businessman stated that just days before the church fire, Mwerinde talked to him about selling cult property, which included large tracts of land, vehicles and buildings. A documentary later produced for African television concluded that "money and greed" motivated Mwerinde to initially help form the cult and ultimately led her to destroy it.

An international law enforcement hunt for the leaders of the Movement for the Restoration of the Ten Commandments has so far produced no meaningful results. No leader has yet been located or arrested.

Notes:

"Charred corpses piled in Uganda suicide site" Reuters, March 19, 2000

"Ugandan Mass Death Led by Failed Politician" Reuters, March 20, 2000

"Catholic Church Had Excommunicated Kibwetere" Africa News Online, March 21, 2000

"Doomsday Cult Leader Could Be A Mental Case" Africa News Online, Panafrican News Agency, March 31, 2000

"An Apocalyptic Mystery" Newsweek, April 3, 2000

"The power behind the cult" The Telegraph (UK), April 2, 2000

"Ex-prostitute may have ordered Uganda cult deaths" Reuters, April 2, 2000

"Kataribaabo's Passport Found" Africa News Online, New Vision, Kampala, May 23, 2000

"Uganda Piecing Together Puzzle of Enigmatic Sect" Los Angeles Times, April 22, 2000

"Prophecy's Price" Washington Post Foreign Service, April 1, 2000

"Family says Uganda cult killer once loving father" Reuters, April 1, 2000

"Did Mwerinde Kill Other Kanungu Cult Leaders?" Africa News Service/December 10, 2000

"NGO Board Confirms Receiving Kibwetere Farewell Message" Africa News Online/New Vision (Kampala), March 23, 2000