The Tate-LaBianca Murders and The Manson Family
September 1999
By Rick Ross
Charles Manson was born in 1934 and never knew his father. His single mother often abandoned him. Eventually he found himself within public institutions. Beginning at the age of nine he was caught in a series of petty crimes and sent to boys schools and reformatories. One early teacher said little Charlie "did good work only [when he]...figured he could obtain something." He was tested and found to have an IQ of 109, but a psychiatrist concluded he would one day become a "fairly slick institutionalized youth." Later Manson raped another boy, while holding a razor to his throat. He spent the 50s and 60s largely locked up, with the exception of brief paroles, which were always broken. He pursued Scientology and Buddhism, but was obsessed with the Beatles. In 1967 at the age of 32 Charles Manson was released from prison for the last time. He said, "Oh, no, I can't go outside...I couldn't adjust to that world." Those words would prove prophetic.
On the morning of August 9, 1969 in a mansion located within an exclusive enclave of Los Angeles known as Benedict Canyon five people were murdered. Among those found dead maid the following morning was actress Sharon Tate (wife of film director Roman Polanski) and coffee heiress Abigail Folger. Some bodies were strewn across the estate, but Sharon Tate, who was more than eight months pregnant, laid dead with a rope around her neck on the living room floor. Graffiti found written in blood at the murder scene said, "Death to Pigs."
On the night of August 9, 1969 another multiple murder shook Los Angeles. A wealthy couple, Rosemary and Leno LaBianca, were stabbed to death in their home on the edge of Hollywood.
These grisly acts during the summer of 1969 came to be known as the "Tate-LaBianca Murders." Three months later police arrested a group of cult members for the murders who called themselves "The Family" (a.k.a. the Manson Family, the devoted followers of Charles Manson).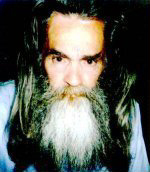 Charles Manson

The Family seemed obsessively fixated upon their leader's dark vision of a coming apocalypse. It is believed that Charles Manson envisioned the Tate-LaBianca murders as a pivotal point in a coming apocalyptic drama. Through these deaths Manson hoped a race war would begin that would engulf society and thus initiate the fulfillment of his prophetic view.

But what followed instead was a sensational 10-month trial, which riveted public attention. In the end Charles Manson and his followers; Susan Atkins, Leslie Van Houten and Patricia Krenwinkel, were convicted. Even though Manson was not physically present at the murders and his devotees attempted to assume full responsibility, he was seen as the malevolent power who directed their actions.

Another Manson family member Charles "Tex" Watson was also found guilty in a separate trial.

All those convicted were sentenced to death. However, when California briefly abolished the death penalty in 1972, their sentences were commuted to life imprisonment.

Susan Atkins, 51, is now a prisoner at the California Institution for Women at Frontera. Atkins married a Harvard law school graduate, her second marriage in prison.

Patricia Krenwinkel, 51 and Leslie Van Houten, 49 are also both now held at California Institution for Women at Frontera.

Charles "Tex" Watson, 54, is a prisoner at Mule Creek State Prison in Northern California. Watson became a minister while incarcerated and fathered four children through conjugal visits.

Two other Manson followers were later found guilty of other crimes.

Lynette "Squeaky" Fromme was convicted (1975) regarding her attempt to assassinate President Gerald Ford. Now 51, Fromme is sentenced to life in prison and is serving her sentence presently at Carswell, Texas.

Sandra Good was also sentenced (1976) to a prison term concerning threatening letters aimed at government leaders. Ms. Good is now free, but still devoted to Charles Manson and has moved to Corcoran, California where she can be near him. Good also runs a Web site about Manson.

Charles Manson, now in his sixties, lives within protective custody and receives more mail than any other prison inmate in the United States.

Manson's fans have created numerous web sites dedicated to him. This reflects their rather morose preoccupation with Manson's sayings, writings, artwork and music. Sandi Gibbons, a journalist who covered the Tate-LaBiannca murder trials says Manson seems to have "managed to con a whole new generation."

Former Manson Family members repeatedly come before parole boards, but have been denied release again and again. In 1997 Patricia Krenwinkel, seemingly resigned to her fate of a lifetime behind bars, refused to appear.

Notes:

"Manson's legacy of fear lives on 30 years later" Reuters, August 9, 1999 By Michael Miller

"30 years later, Manson cult thrives" Associated Press, August 9, 1999 By Linda Deutsch

"A look at key figures in the Tate-LaBiannca murders 30 years ago" The Associated Press, August 8, 1999

"Helter Skelter: The True Story of the Manson Murders" Bantam Books 1996 By Vincent Bugliosi