The Waco Davidian Standoff
September 1999
By Rick Ross
On April 19th 1993 David Koresh (born Vernon Howell) claimed the lives of 80 of his Branch Davidian followers, including 25 children, in what seemed to be their final trial by fire. The 33-year-old self-proclaimed "Lamb of God" thus ended a 51-day-standoff with federal law enforcement.
That standoff began February 28th when agents of the Bureau of Alcohol Tobacco and Firearms (BATF) attempted to serve Koresh with a warrant at his Davidian compound outside Waco, Texas. This effort erupted in gunfire. Heavily armed Davidians fired upon federal agents killing four and wounding 16 BATF officers.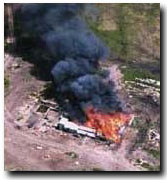 Mt. Carmel Burning

After the shootout Koresh refused to leave the enclosure often called "Ranch Apocalypse." The FBI assumed control of the perimeter and conducted negotiations. David Koresh repeatedly broke his promises to come out peacefully. A frustrated and exhausted FBI subsequently attempted to end the standoff by gassing the compound. Koresh, then forced to choose between his compound Kingdom and certain criminal prosecution, opted to end not only of his own life, but that of his followers as well.

This was the tragic end of Koresh's six-year-rule over the once benign Davidian sect, originally founded by an officially excommunicated Seventh Day Adventist named Victor Houteff who died in 1955. David Koresh was a man many mental health experts were inclined to describe as a likely "psychopath."

Vernon Wayne Howell was born in Houston, the son an unwed mother. He grew up in Dallas and according to his grandmother "was dyslexic." After dropping out of school in the ninth grade he moved to Tyler, Texas and at the age of 18 joined an Adventist Church. However, after repeated conflicts with the Adventists he moved to Waco, where he found an obscure communal group known as the Davidians. Lois Roden was then the group's aging leader. But eventually, Howell would effectively replace her, as Roden's health and power diminished. After her death Howell traveled to Israel, where he claimed American forces would soon invade and begin Armageddon. After those predictions failed, Howell changed his name to David Koresh. David, symbolized the restoration of the Davidic Kingdom and Koresh was supposedly the Hebrew pronunciation for the Babylonian king Cyrus, who allowed the Jews to return to Israel. Koresh's new prophetic role was set and he proclaimed the final conflict would now begin in Texas.

Koresh's leadership of the Davidians began with violence. A gun battle in 1987 between Koresh (assisted by 7 heavily armed followers) and a rival leader George Roden Jr. led to his trial for attempted murder. But the jury deadlocked and prosecutors chose not to retry Koresh. Texas prosecutor Denise Wilkerson observed at the time that David Koresh "was building an arsenal" and "preparing for a battle with someone."

According to financial records Koresh spent $199,715.00 on weapons and ammunition in the 17 months immediately proceeding the BATF raid on his compound.

The remnants of a huge arsenal was later found after the fire amidst the ruins of the Davidian compound. This stockpile included grenades, gas masks, more than a million rounds of ammunition and at least 40 submachine guns.

Amongst the more than 200 weapons catalogued were:
19 SGW CAR-AR assault submachine guns (three fitted with silencers), nine other silencers

8 hand grenades and at least 31 other grenade parts and fragments, more than 20 pieces and fragments of rockets (apparently used to make rocket-propelled grenades) along with 1 sight for a rocket-propelled grenade launcher.

3 Israeli-made IMI Galil assault rifles

10 Ruger Mini-14 assault rifles (one with a mounted scope)

A barrel for a M60 machine gun

1 30 mm rocket shell

9 FAL assault rifles (three mounted on bipods)

At least 54 AK-47 or AKS assault rifles (some converted to fully automatic submachine guns)

11 .12-gauge shotguns (one with a sawed-off barrel)

Dozens of pistols

Dozens of barrels for M-16s, AR-15s and other weapons

Gas masks and one chemical warfare suit

Several Kevlar tactical vests and other body armor and eight Kevlar helmets.
Also found were lathes, milling equipment and other tooling machinery, which essentially substantiated the suspicions of authorities, who believed that Koresh and the Davidians were engaged in the illegal conversion of assault rifles to automatic weapons and the manufacture of crude "grease guns."
Six surviving Branch Davidians were subsequently convicted of voluntary manslaughter and/or using a firearm in a violent crime. Two Davidians were also convicted on related weapons charges.
Four Davidians were sentenced to 10 years for voluntary manslaughter, one to 30 years for using a firearm in a violent crime. A sentence of 20 years was given to another Davidian for possessing a grenade and using a firearm in a violent crime. And one Davidian was sentenced to 15 years for possessing and conspiring to possess machine guns.
Six Davidians were ordered to pay fines and $1.3 million in restitution to the slain BATF agents' families and the government.
In 1997 the Supreme Court rejected the appeals of six Davidians, effectively ending their appeal process.
A virtual cottage industry has since evolved featuring conspiracy theories about Waco. This has often included right-wing extremist groups, so-called "militias" and an assortment of anti-government radicals.
Conspiracy theories about Waco clearly motivated convicted murderer Timothy McVeigh in 1995 to bomb the Murrah Federal Building in Oklahoma City, as a supposed act of retaliation regarding Waco. That bombing claimed 168 lives.
Congress held hearings concerning Waco in 1996. Democrats seemed to feel that Republicans hoped to exploit the tragedy for political gain. But the official Republican report concluded the following:
"Who fired the first shot on February 28th cannot decisively be resolved given the limited testimony presented to the Subcommittees. It appears more likely, however, that the Davidians fired first as the ATF agents began to enter the residence."




Vernon Howell
aka David Koresh

"No shots were fired from the helicopters at the Branch Davidian residence."

"Koresh sexually abused minor females at the residence."

"It also appears certain that Koresh employed severe physical punishments as a means of disciplining the children."

"On April 19th&multiple fires began in different places inside the Branch Davidian residence and that they were deliberately set by the Davidians themselves."

"Some opportunity existed for the Davidians to safely leave the structure had they wanted to do so."
Former BATF director Steven Higgins later outlined the information received by his bureau suggesting the potential danger posed by David Koresh and his followers, both to the public and the Davidians themselves. He stated, "I can only say: Remember Jonestown. Or remember the members of the sect in Canada and Switzerland [i.e. The Solar Temple] who committed mass suicide. Or look at what happened in the subways in Japan, where a group [Aum] whose presence was known and considered potentially dangerous by government officials allegedly uncorked a deadly nerve gas. The day has long passed when we can afford to ignore the threat posed by individuals who believe they are subject only to the laws of their god and not those of our government."
In 1999 a Federal judge cleared the way for a $675 million dollar wrongful death lawsuit filed against the government by surviving Davidians and the relatives of the dead to proceed. The plaintiff's alleged that the government was responsible for the deaths of Davidians within the compound. The trial concluded in July 2000. After two hours of deliberation the jury sided fully with the government against any claims of excessive force and negligence. Specifically, the jury said that evidence showed the ATF did not fire indiscriminately during the initial raid, that the FBI did not cause the fire and did not violate orders by not having firefighters immediately on hand. FBI Director Louis Freeh commented after the verdict, "A lot of speculation, misinformation and second-guessing'' had surrounded the Waco standoff. And Freeh added that "the significance of the jury's findings to the courageous federal law enforcement officers who have had to absorb unproven allegations and public criticisms for all these years cannot be overstated.'' Later, Federal Judge Walter J. Smith Jr. concurred with the jury, closed the case and refused to reopen it.
Simultaneously, during 1999 former United States Senator John Danforth (Republican-Missouri) conducted an independent investigation regarding Waco. After 10 months, which included interviews with about 900 witnesses, the examination of 2.3 million pages of documents and an expense of between $10 million to $11 million dollars Danforth concluded with "100 percent certainty" that the FBI did not start the fire or shoot at cult members during the fire. He further stated, "There are no doubts in my mind," and concluded, "The blame rests squarely on the shoulders of David Koresh." The Danforth Report published in November 2000 unequivocally reaffirmed the conclusions previously submitted July 21, 2000 in his Special Interim Report, which cited the following five points:
1. Government agents did not start the fire at Waco;
2. Government agents did not shoot at the Branch Davidians on April 19, 1993;
3. Government agents did not improperly use the United States military;
| | |
| --- | --- |
| 4. | Government agents did not engage in a massive conspiracy and cover-up. There is no evidence of any wrongdoing on the part of Attorney General Reno, the present and former Director of the FBI, other high officials of the United States, or the individual members of the FBI Hostage Rescue Team who fired three pyrotechnic tear gas rounds on April 19, 1993. |
| | |
| --- | --- |
| 5. | Responsibility for the tragedy at Waco rests with certain of the Branch Davidians and their leader, David Koresh, who shot and killed four ATF agents, wounded twenty others, shot at FBI agents trying to insert tear gas into the complex, burned down the complex, and shot at least twenty of their own people, including five children. |
Not content with the court's decision, the Waco Davidian survivors pursued appeals. But in June of 2003 without dissent, a three-judge panel of the 5th U.S. Circuit Court of Appeals rejected an attempt by the survivors to collect damages from the government. Less than a year later in 2004, the nine justices of the Supreme Court of the United States refused to hear their appeal, questioning the conduct of a judge involved in lawsuits over the Branch Davidian siege outside Waco.
Despite these facts, which have been established repeatedly by the detailed examination and analysis of the evidence and reported through a succession of investigations, hearings and court actions, the Waco Davidian Standoff continues to be a favorite topic amongst anti-government conspiracy theorists. It seems this subculture of suspicion insists upon turning this cult tragedy into a thriving "cottage industry," which has included documentaries, books, videos (available through numerous Web sites) and even speaking tours. It is doubtful that such extremists will ever accept the facts about the Davidians and will instead perpetuate their own alternative version of reality for propaganda and profit.
Notes:
Secrets of the Cult: The Messiah of Waco Newsweek March 15, 1993
By Barbara Kantrowitz with Andrew Murr, Peter Annin, Ginny Carroll and Tony Clifton
"In the Grip of a Psychopath" Time Magazine, May 3, 1993
By Richard Lacayo; Reported by Wendy Cole and Richard Woodbury
"See No Evil" By Tim Madigan, Summit Press 1993
"Tragedy in Waco" Time Magazine, May 3, 1993
"Files detail evidence of huge cult arsenal," The Dallas Morning News, May 26, 1993
"High court nixes appeals of six Branch Davidians convicted in '93 gun battle " Houston Chronicle, April 21, 1997
"Subcommittee on Crime of the House Committee on the Judiciary and the Subcommittee on National Security, International Affairs, and Criminal Justice of the House Committee on Government Reform and Oversight" The Republican Report 1996
"The Waco Dispute - Why the ATF Had to Act" The Washington Post, Sunday July 2, 1995
By Steven Higgins
"Judge rules that lawsuit against state can continue" Associated Press, July 3, 1999
"Trial Set in $100 Million Suit Over Davidians' Fiery End" Washington Post, July 30, 1999
"Jury Finds U.S. Not to Blame in Waco Case" Reuters, July 14 2000
"Judge rejects second attempt to reopen Davidian lawsuit" Waco Tribune-Herald, September 29, 2000
"Danforth Clears Feds Regarding Waco" Associated Press, July 22, 2000
"Final report from John C. Danforth, office of Special Counsel, Waco Investigation" PRNewswire/November 8, 2000
"Court Rejects Davidian Claim Against U.S.," Associated Press June, 2003
"McVeigh's Reasons Tossed Out by Supreme Court," KFDX NewsCenter March, 2004