Pearl Teens Face Trial
Associated Press/October 21, 1997

By Gina Holland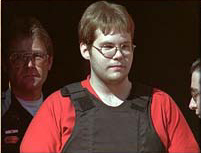 Luke Woodham
Prosecutors are preparing for a trial next year for two teens accused of planning murders as part of a satanic killing crusade, but a judge may be asked for separate proceedings.
Grant Boyette, 18, and Justin Sledge, 16, pleaded innocent Friday to two counts of accessory before the fact of murder in connection with Oct. 1 slayings at Pearl High School. They could be sentenced to life if convicted in the Feb. 9 trial scheduled by Circuit Judge Samac Richardson.
Attorneys for Sledge may try to distance themselves from Boyette, the alleged ringleader of a group known as the "Kroft," which prosecutors claim spent months planning the high school killings.
Two of Six Teens Charged
Sledge and Boyette were among six teens charged with murder conspiracy a week after the deaths of two Pearl High coeds. Sledge's case was transferred to youth court, but with the indictment he was returned to adult court.
The two wore arm and leg chains during their court appearances in Rankin County. At one point, Sledge held out his chained arms, looked into the crowd and shook his head side to side. As he was escorted away, he mouthed "I love you," to his parents who sat in the back of the courtroom.
His mother, Sherry Sledge, closed her eyes and fought back tears. His parents refused to comment afterwards.
Before the charges were filed, Mrs. Sledge had told The Associated Press that Woodham handed her son some notes shortly before the killings.
"He could tell he had a blank look. He said 'give these to Grant (Boyette).' That's the only four words he said," she said.
Her son "never even looked at the material," she said, and was shocked by the killings.
"He could not believe what he was seeing before his eyes," she said.
Boyette Was Ring Leader
In Woodham's purported manifesto, he said Oct. 1 "shall go down in history as the day I fought back."
Prosecutors contend the group "Kroft" has met at Woodham's house, where they practiced satanic worship and talked about murdering. An assistant district attorney at Friday's hearing carried the book "Ritual Crime."
Boyette was the ring leader who called himself "father," officials have said.
Don Cabana, a University of Southern Mississippi criminal justice professor, said he is not surprised that Sledge's attorneys may request separate trials.
"I'd be shocked at any other strategy. I'd be trying to distance myself from this kid. I'd try to show ... he had the maturity, he was the influence on the others," he said.
Cabana said all the defendants may have a hard time separating themselves from Woodham.
"Luke Woodham is not going to end up hanging by himself. There's no question about that," he said.
To see more documents/articles regarding this group/organization/subject click here.