Small town rocked by bizarre murder case
CNN/October 21, 1997
By Brian Cabell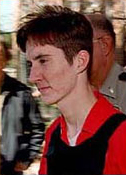 Grant Boyette
Pearl, Mississippi -- In a case that still has locals bewildered, 16-year-old Luke Woodham was indicted Monday on charges of murder, murder conspiracy and aggravated assault.
The story, as related by the Pearl, Mississippi, police, sounds like something from a Stephen King novel. Woodham allegedly opened fire at his high school, killing two students and wounding seven.
"He was simply pushed to a pivotal point in his life in which the world has spit on him for the last time, and he was fixing to spit back," said one of Woodham's friends, Justin Sledge, the day of the shootings.
As the story unfolded, the authorities found the suspect's mother stabbed to death at home in her sleep, police say. They also discovered a small, avowedly satanic clique that calls itself "Kroth." In addition to Woodham, six students, including Sledge and alleged ringleader Grant Boyette, 18, now face conspiracy charges.
"If you talk to town officials, they'll tell you it might be a little Satanism, a little bit of reading into Hitler, a little bit of boy-girl romance problems, of anger at parents and at classmates," says police chief William Slade.
The students allegedly had grander plans, including more killings, napalm fires and ultimately taking over their high school and then disappearing.
The case is "getting stronger every day," Slade says. "We're just getting more evidence to help make this thing stronger."
The story has shocked this small town, wedged between the state capital of Jackson and Jackson's airport. It was a fairly undistinguished little town of about 20,000 -- until the shocking school yard killings and the bizarre allegations that followed.
Some dismiss talk of a conspiracy.
"Kids talk. That's all I can say. Kids talk a lot," one Pearl resident said. "Just talking, just threats, just trying to be big and bad like him, so they can get publicity and stuff," another resident agreed.
Most of the students are back in school, but some of their classmates face court dates and possibly long prison sentences. And at least two won't ever be back.
"To say that we'll return to like we was before, I can't say that," says Mayor Jimmy Foster. "Because this will always be in our kids' minds, in our minds, because it did happen."
To see more documents/articles regarding this group/organization/subject click here.