Integral Yoga Institute - Yogaville: A Father's Story
July 1999

By Matthew Cheng Sr., Ph.D.
Introduction
I would like to share my family's experiences with Integral Yoga Institute (IYI) and Yogaville. Please understand that I have always been a very private person and my family certainly seeks no special attention. I share this story in the hope that what has been done to my bright and beautiful daughter and to my family, will never again happen to another family or to their loved ones.
My wife and I always tried to provide the best for our children. We emphasized to our children the promise of education and hard work. Consequently, our family had been quite fortunate, with each of our children growing up healthy and happy and also excelling academically. They attended the best schools and universities we could afford.
My daughter Catherine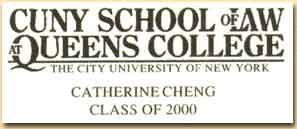 Our oldest child, my daughter Catherine, was 23 years old when she was first introduced to IYI. She was always a very bright, loving, studious and conscientious person, with strong affection for her family. She had told us, after attending college, that she decided to become a lawyer and hoped to defend and protect the less advantaged of the world. She wrote in 1998, "I want to be the best lawyer I can be. Law school is easy and fun. It is very rewarding being able to help people already with my knowledge. I want to become a great, effective, litigating lawyer and strive for justice." Her grades in law school, as always, were excellent. She obtained several fellowships, which allowed her to travel to various parts of the United States--working on behalf of migrant farm workers, serving the poorest in this country and she became fluent in Spanish "to help future clients".
While in law school, she met another law school student, fell in love and confided to her friends that they would marry and work together after graduation.
Catherine's partially used IYI Membership Cards
After completing three semesters, Catherine began to find law school more stressful, although her grades continued to be superlative and she continued winning fellowships. Catherine began her practice of yoga some years before while in college and found it an effective method of reducing stress and achieving tranquility. She practiced yoga at home for years. As the stresses of law school weighed more heavily on her, my daughter began attending the classes offered by IYI in New York City. She felt the exercises were enriching and the people who worked there very friendly and supportive.
Integral Yoga Institute of NYC
Catherine goes to Yogaville
In the fall of 1998, Catherine decided that a month of yoga training during her winter school recess would be just what she needed to relax and refresh for her upcoming law school semester. She applied, and received a "one month scholarship" for Living Yoga Training (LYT) in Yogaville, Virginia--the "ashram" and main campus of Integral Yoga International, devoted to the spiritual teachings of Swami Satchidananda. She left for Yogaville on December 18, 1998.
On that day, she sent an email to her boyfriend, telling him that she loved him and missed him greatly. She told both her family and her boyfriend not to worry about her, that she would be fine, surrounded by such loving people. She told her boyfriend that she would write to him from Yogaville, to tell him of her experiences there and said, "Soon I will be with you again and hopefully forever." He told her to be careful because he had heard that some of the Yoga Schools in Greenwich Village were accused of being cults.
Her answer is now etched in his memory--"Don't worry honey, I'll be fine. I'm sure these people aren't like that and nothing will happen to me. I will write you so you can keep in touch with me, and I'll ask if they have net access so I can email you love letters. If these people are weird, I'll leave. I'm too smart to get caught up in that." That was the last time he ever saw her. She took very few of her belongings and bought a round-trip bus ticket. She scheduled her return home on January 14, 1999.
Yogaville Residence, where Catherine lived for 4 weeks
At first, Catherine's Yogaville experience was uneventful. The family spoke with her every few days by telephone. She said that much of her LYT training consisted of cooking and cleaning the bathrooms for the others. We kidded her, telling her that it was good that she was experiencing such hardships and that these lessons would come in handy someday.
On January 5, 1999, things seemed to change suddenly and dramatically. Catherine called home on that date to tell us that there had been a serious accident and that a stove at the ashram's kitchen had exploded in her face. She said that she thought she was seriously injured, but that she was brought to the hospital, treated and was now OK. I was concerned and asked whether she shouldn't come home immediately, but she reiterated that she felt fine. She asked if someone in the family could please go to her law school mailbox, find her bill and pay it for her. This bill had to be paid soon for her upcoming semester. She again said that she would return home on January 14th.
I called her back the next day, January 6th, to ask if she could please take care of this matter herself when she returned, as it was difficult for us to handle this and she agreed. Catherine then said something that struck me as very odd. She said that the family must not call her at all during the next week. I asked why. She explained that she was going on a trip to Washington D.C. with a friend at the ashram--an attorney. She said that she would be gone for several days and would call us when she returned. We were perplexed. We didn't understand why Catherine would want to spend a week of her LYT program in Washington, DC with a Yogaville lawyer. We thought she had gone to Yogaville to study and practice yoga.
Married to a Swami
Catherine on January 13th,
after 4 weeks in Yogaville
On January 11th Catherine called again. This time her voice was shaking, as if she had just finished sobbing. Catherine said that she was not ever returning home. She was going to remain at the ashram and marry a 51-year-old man called "Swami Atmananda" (also named Larry Gross) who was the same lawyer that she had accompanied on the trip to Washington DC. I asked her how long they had known each other and she responded, "only two weeks". I asked how she could possibly marry someone that she had known for just two weeks. Catherine or someone else then abruptly hung up the telephone. That was the entire extent of the phone call. Not only was the content of this conversation strange, but the manner and style of communication didn't sound like Catherine at all.
In the past, my daughter was always laughing, happy, and very verbal--speaking quickly and unhesitatingly. In this call, she hesitated and/or stuttered after every few words, as if she were uncertain of what she was to say to me. When I asked a question, she appeared to move away from the phone as if obtaining the answer from someone else. There were long pauses, as if she was confused and needed help in answering. And then she, or someone else, suddenly hung up. My daughter would never act that way. I tried several times calling her back. Other members of the family tried too. However, we could never reach her. The Yogaville secretary took our messages, but no one ever returned our calls.
Catherine had never hung up on me before in her life. Marrying a man who is thirty years older than herself after knowing him for two weeks also did not seem like something that my daughter would do. Only six months before, she wrote that she had few prejudices in her life, but one prejudice that she definitely did have was against "younger woman-older man relationships". She said emphatically that she didn't like them, didn't understand them, and that they struck her as strange and unappealing. How odd that only six months later she married a man 30 years her senior.
My journey to Yogaville
Catherine and "Swami Atmananda",
AKA Larry Gross
I immediately attempted to make arrangements to go to Yogaville and find out what was going on. However, the Yogaville staff said they required at least 48 hours advance notice for a visit--so my trip was delayed for two days. I arranged for my eighteen-year-old son to travel with me. We reserved a room at the Yogaville hotel.
Two days later, on January 13, 1999, my son and I arrived in Charlottesville, Virginia by bus. After waiting several minutes for the Yogaville taxi, my daughter and an older man suddenly walked into the station. I was surprised because I had not been able to tell her that we were coming. The older man, who did all of the talking, drove us to his "favorite Chinese restaurant"--we are Chinese. My son, who sat in the back seat of the car with my daughter, later commented to me that his sister looked very strange and did not act like herself. She sat there speechless, with a strange and excessive smile--what he later called a "clown smile".
In the restaurant, I advised them both that since they had only known each other for two weeks, perhaps they might consider waiting awhile before getting married. I suggested that if Larry Gross really loved Catherine he would encourage her to finish her law degree. Mr. Gross said instead that my daughter would remain in Yogaville with him and would learn useful skills such as how to use a computer. He said that Catherine now hated law school and had no plans to return. My daughter said little. She mostly sat there with her head down, smiling. My lovely and intelligent daughter, who had always been so independent before, now seemed to defer totally to this man's judgement--a man who she had met just two weeks ago.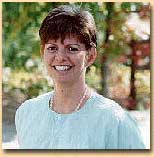 Karuna Howeth,
former Manager of the LYT Program
The next morning, I spoke with Karuna Howeth the Manager of the LYT Program. I told her what had happened and said that my daughter should come home. Ms. Howeth said that she agreed with me completely. But subsequently, Larry Gross, who continued to appear to dominate Catherine so completely, began pulling Catherine's arm to take her away from this meeting. I held my daughter hoping to continue our conversation. But Mr. Gross only pulled harder. My son finally persuaded him to release his sister. She appeared quite angry. After listening for a few more minutes, she ran out of the room.
I spoke with two other supervisory "swamis" to discuss my concerns. They told me that "Swami Atmananda" AKA Larry Gross had been with Yogaville for fifteen years. They admitted that only two weeks previous they had introduced him to Catherine--"because of their similar interest in the law." During the past few days, Mr. Gross had told his peers that he planned to give up his "monkhood" (celibacy) to marry my daughter. But he intended to remain in Yogaville, and continue working as their attorney. I told the other swamis I wanted to bring my daughter home with me. They then said Catherine had "disappeared" and that I could not wait at Yogaville for her. I was told to leave immediately.
Catherine's growing isolation
After returning home, everyone in the family and all of Catherine's friends tried many times to reach her by telephone. But none of our messages were ever returned.

On January 24th, I received what was essentially a good-bye letter from my daughter, although it did not sound at all like her. She said that she did not consider herself suited for the law and so, was quitting law school completely. She emphasized that I should bless her upcoming wedding. The tone of the letter appeared clearly threatening to me. The threat was that if I did not bless this marriage, I would never see her again.

Catherine and Law School friends

My "daughter" then sent good-bye letters to her boyfriend and to her friends at law school. She told them not to call her, saying, "I won't be returning any phone calls because I am too busy". She wrote to her boyfriend, "I don't feel that I'm strong enough at this point to talk to you in person." When her friends called anyway, and their calls were not returned, my daughter's e-mails grew more insistent. She wrote, "I have decided not to talk to anyone by phone, only via e-mail. Besides the long-distance charges and convenience, I'm not sure I can handle talking to people right now. I'm afraid of being criticized or people trying to threaten me&or talk me out of my decision." She explained to her friends that she "fell in love with a lawyer who I was working with". But why was my daughter working with Larry Gross? Didn't she go to Yogaville to practice yoga? None of this made sense to us, except the consistent pattern that it seemed they wanted her to stay in Yogaville and did not want anyone to talk to her or convince her otherwise.

 

Her friends and our family began receiving occasional e-mails, purportedly from Catherine. We learned that she had changed her given name to a new Hindu name and began signing her correspondence accordingly. We did not understand this. If Integral Yoga and Yogaville truly accept people from all religions, as they state, then why was my daughter now to refrain from using her given name? Why was she now using a Hindu name?

Why couldn't Catherine speak with her friends or family to tell them more about her decision? If my daughter's decision was truly hers, what was there to fear in talking to her friends or family? People who want to be married usually welcome the communications of friends and family. Most don't isolate themselves as she had done. Catherine had always been a very friendly, loving, extroverted person. She was never one to isolate herself from her friends.

It became obvious that after only a few short weeks her marriage was not the only change in Catherine's life--she changed her name, appearance, diet, wardrobe, family, friends, and obtained new IDs. Her prior interests in the law, Spanish language, helping the downtrodden, and her boyfriend seemed to disappear. She now appeared to be placed "on a path" purposely designed to erase her past, previous interests and personal connections.

When her boyfriend continued calling and writing letters to her, they were responded to with clear, unveiled, legal threats--in language that did not sound like her at all. He was told, "We don't want to report the matter to the police authorities, but if we do, it could cause some difficulty for you when it comes time for your bar admission." Only one month earlier she told him that she loved him greatly and would be with him forever.
My son goes to Yogaville
On February 23rd, my eldest son, Matt, traveled for more than 24 hours from his university in Canada to Yogaville to try to speak with his sister. The Yogaville authorities told him that she did not wish to see or speak with him. He was instead brought to meet with one of Yogaville's leaders, supposedly a practicing psychologist named Prem Anjali (aka Dianne Jill Rothenberg). Ms. Anjali told my son that his sister was an adult and could do as she wished. If Catherine did not wish to see him, that was her prerogative. Matt felt that this was not his sister's decision, but in fact, the decision of Yogaville to keep them apart. He felt they feared that if Catherine saw him and spoke with him, she might decide to leave.
Prem Anjali told my son that Catherine wouldn't see him because she was afraid of him--afraid he might try to abduct her. He told Ms. Anjali that this was ridiculous. Swami Asokananda, the President of Yogaville then arrived and reiterated that his sister did not want to see him. Prem then said that she would "intervene on his behalf", explaining to my daughter that my son was really not someone to be feared. Apparently, Catherine now trusted this ashram psychologist far more than she trusted members of her own family.
Suddenly, Catherine and Larry Gross appeared. Ms. Anjali went to the door and took them back outside. Ms. Anjali returned to the meeting room after only a few minutes, advising that she had been successful and that Catherine had now agreed to see Matt for 20 minutes. She explained that this was the best that she could do. He agreed, even though he had traveled thousands of miles to see his sister. Ms. Anjali also said, because Catherine was so afraid of Matt, he could not speak with her alone. "Swami Atmananda" AKA Larry Gross would also be present--along with Ms. Anjali, and two large bodyguards at the back of the room. This was all to insure Catherine's "safety". My son stared in shock as Catherine entered the room. She appeared painfully with a swollen face and lips, and with a large red dot painted on her forehead. This was some type of Hindu custom.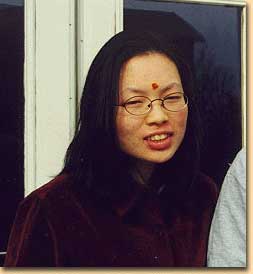 Catherine during Feb. visit
Catherine's eyes were almost swollen shut, but she had that same wide, clown-like smile on her face. She hugged everyone in the room except her brother. Whenever he tried to speak with her she appeared confused or failed to respond readily. Instead, the psychologist would intervene and answer for her. Prem Anjali was clearly in control of the meeting.
Ms. Anjali told my son that I had paid for my daughter's college education in an effort to "control" her, but that now, in Yogaville, my daughter was finally free. When my son asked Catherine why she wanted to stay in Yogaville, the psychologist seemed to take offense. "Do you think that we are a cult?" she asked. "Yes", he answered frankly. Then Prem Anjali apologized again and again to my daughter for asking her to see Matt. She told her that now she understood why Catherine did not want to see members of her family and that she supported her in this decision. My son wept. Larry Gross then angrily told my son to leave his "house" and Matt left Yogaville. My son audiotaped this entire visit.
Controlling Catherine
The Yogaville psychologist and others at the ashram seem to control my daughter. It seems that Catherine has been told how to act towards members of her own family--as if we were her enemies, people to be feared and kept away from.
But Catherine was always close to us. How could she now possibly fear us? It seemed impossible. But it all became much clearer through my son's meeting with her and Yogaville's leaders. Now she was filled with fear. Catherine didn't appear to want to see any of us again--unless it was within her new "safe" surroundings--with Yogaville staff members present to offer supposed protection and speak for her.
We feel that such surroundings were purposely designed to insure that Catherine could not be convinced to leave. The Yogaville psychologist also claimed that Catherine feared her family because she had been "abused as a child". What abuse was she referring to? Catherine said that when she was a small girl, her mother hit her with a spoon when she did not want to go to school. But this is a lie. Not only did this never occur, but also my daughter never before mentioned this to me or any other members of our family.
Somehow, after only one month in Yogaville, Catherine was now making up claims of abuse and was afraid of her own family. It seems obvious to us that this fear was created by Yogaville in an effort to bind her more closely to her "new family" and break her away from her own "old family". If this is not the methodology of a destructive organization--I don't know what is.
Threats and intimidation
When my son returned to school, he told his friends about his bizarre experience at Yogaville. They tried to help by posting information on the Internet. They then purchased domain names for this function, such as www.yogaville.com, and www.integralyoga.com, to detail our story and offer information about Yogaville and its leaders. It is important to note that though professing to be a type of advanced yoga school, Yogaville really expresses a type of religion. Becoming deeply involved in Integral Yoga actually includes a kind of religious conversion. Even the U.S. Army chaplains recognize Integral Yoga as a separate form of Hindu religion. Yet people are NEVER told this when they attend yoga classes. Many people seem to think it is like taking a yoga class at a college.
My son then began to tell our story in the various yoga and meditation chat rooms of the Internet.
Suddenly, after information began to appear on the Internet, my "daughter" no longer feared speaking with me. Both she and her fiancée started writing and calling me daily. Using mostly legal language, they threatened me that unless activities on the Internet ceased, legal action would be taken by their "New York lawyers" against our entire family. We were told this might result in our family being made penniless and homeless, and my son facing "criminal prosecution and/or a substantial civil suit" that [would] "ruin his life"-- "a felony conviction [that would] haunt him forever." He would endure "a big civil judgment [which would] insure that he will never be able to accumulate any money"& "and since it is willful and malicious, it will not be dischargable in bankruptcy."
In these threatening correspondences, supposedly from Catherine, new reasons were offered why she was afraid to see me. The list was growing seemingly endless. Now our meeting at Yogaville was subjected to some strange form of interpretation. My daughter wrote, "I did not wish to speak to you any longer because you started screaming and becoming belligerent and you even grabbed me [and] as you know, but refuse to acknowledge, I was physically abused as a young child, which you fully tolerated. I was really afraid of you&[but] if you&are able to accept my new life and my husband, then perhaps we can even talk". This didn't really sound like fear to me--it sounded more like a threat. Accept my new life or you will never see me again. Meanwhile, my son began receiving harassing phone calls from Yogaville staff members at his school. When he told them that he would tape the conversation they hung up abruptly. Unknown women began knocking on his door at all hours. He believes that they were from the local IYI center.
A secret wedding
On March 10, 1999, I received another threatening letter from my daughter. In this letter, she mentioned, as almost an afterthought, that she was now legally married. This was the extent of our knowledge of her wedding. None of our family was invited to the wedding. We were not sent pictures. No one was even told what the wedding was like. Nothing, no information whatsoever. We later learned, by contacting the County Clerk's Office, that Larry Gross and my daughter were married March 8th, by the same Yogaville psychologist, Prem Anjali, who had treated my son Matt so badly. But on the wedding certificate, Ms. Anjali was now listed as an authorized minister for Buckingham County in the State of Virginia. So Yogaville had brought my daughter and Larry Gross together, sent them on a trip to Washington DC, and now Yogaville had married them.
On March 14, 1999, my new "son-in-law", Larry Gross, began writing to me directly, making new demands. He ordered me to send my daughter her passport, assuring me that they did not want it "for leaving the country, but just for identification purposes only". Two days later, they again asked for this passport, stating that Catherine was "not going anywhere YET". Without this passport, my daughter had already obtained new IDs, gotten married, changed her credit cards to her new Hindu name, and obtained a learner's permit to drive in Virginia. Apparently, Catherine had all the identification that she needed. It seemed as if they might be planning to take her out of the country in the near future. We certainly had learned not to trust anyone at Yogaville.
My new "son-in-law" also tried to assure me that my daughter's decision to quit law school was the correct one. He said that as "a lawyer of much experience", he could certainly tell whether law was a suitable career for my daughter. He assured me, with the utmost certainty that it was not. However, prior to going to Yogaville, my daughter had won two legal fellowships and had loved studying law immensely.
More threats and changes
By late March 1999, my son began receiving new threatening letters from my "daughter" and "son-in-law", stating that if he did not turn over our website domains to Yogaville, the "executive authorities" of Yogaville, in consultation with their "New York lawyers" would determine whether to sue me and my entire family. They threatened again that we would become penniless and homeless. My daughter contacted me several times by telephone to make these demands, even though in January she was previously too fearful of me to speak by phone. During these telephone calls, my daughter's voice was painful to listen to. Only three months earlier, her speaking voice had been lively, clear, and fluid, without hesitation or a stutter. But in her telephone calls to me, in March and April, she now hesitated constantly and/or stuttered at almost every other word. I asked Catherine if she could come to visit. "Maybe in the future" she responded vaguely.
By April, Catherine started saying that she planned to visit India for several months in the near future. She also said that now she often dressed in saris and loved everything Indian. Her previous interest in the Spanish language and the Spanish culture was gone. Her law school friends grew increasingly concerned that Catherine didn't sound like herself in her correspondences. She sounded increasingly like another person entirely--someone they didn't know.
Rick Ross assists our family
In mid-April, I asked Rick Ross a noted cult expert and intervention specialist to contact Yogaville, on our family's behalf to discuss our concerns.
In response, on April 20th, Larry Gross, my new "son-in-law", wrote to Mr. Ross, stating that Yogaville was not responsible for his marriage to my daughter, and that this was really love at first sight. He said, "Yogaville did not encourage or even 'aid and abet' our relationship at all."
But again, in our minds, this was just one more lie--in a long line of lies and deceptions. It seems to us that Yogaville clearly brought them together, and allowed and/or encouraged them to go to Washington D.C. together when Catherine supposedly was to be practicing "Living Yoga Training". Subsequently, the Yogaville psychologist/minister Prem Anjali controlled my son's visit to Catherine and spoke for her--and then married them only two weeks later.
Another communication during Mr. Ross' efforts came on April 20th from Larry Gross. He suddenly decided to send me their home telephone number, asking that we "please call them at home." Catherine too seemed to have a sudden interest in more reasonable communications. She called me work on that day give the same message. This was the first time I had ever received their home telephone number. Prior to Mr. Ross' contact, we were denied any such information. Frankly it appeared he was getting results.
My "son-in-law" then wrote to inform me that he and my daughter were in the process of being evicted from Yogaville because of Mr. Ross' advocacy on our behalf. He inferred that unless Rick Ross stopped attempting to contact Yogaville's leaders, he and my daughter would be homeless, have no jobs, no income, and would suffer much hardship. I did not understand why Yogaville would act in such a manner if they had done nothing wrong. Mr. Ross had merely asked that the family be permitted to speak with Catherine alone for a period of ten days and nothing more. It did not appear that Mr. Gross approved of this proposal. Instead, he seemed to place any convenient obstacle in our way. He also appeared to be using a deliberate strategy in an attempt to insulate Yogaville from any responsibility.
The following day, I received another phone call from Catherine. This time she called to tell me that Mr. Ross is "probably a racist and hates Chinese people, too." and that he likely would "kidnap" or "rape" her. At this point it seemed that Yogaville and/or Mr. Gross had begun a campaign of instilling unreasonable new fears into my daughter's mind to insure that she would not leave them.
On April 22nd, I received a threatening fax from Catherine. She said that if I did not stop Mr. Ross from contacting Yogaville, she and her husband would run away and that I would never see them again. I would never see her or my future grandchildren. She now offered to come to New York to see me and talk with me. This was the first time my daughter offered to visit our family since going to Yogaville. Before this, I was explicitly told that she would not see me because of the many fears she had of me. Now, it seemed she feared Rick Ross more.
Yogaville's Lawyers
Despite her harsh criticism of Mr. Ross, we plainly saw that it was only after his intervention that any meaningful line of communication began to develop with our daughter. However this matter then began to be inceasingly managed by their attorneys. First, through David Barrett, an attorney in New York who said that he represented Yogaville. Mr. Barrett seems to have been associated personally for a number of years with IYI. He advertises his services in several "New Age" publications and claims he "has been meditating for the past 34 years". Jeremiah Gutman, another New York attorney, later claimed he represented my daughter and her new husband. Each of these men told us that Yogaville fired Mr. Gross because of our actions, and that he was no longer associated with them. However, it was later confirmed that he had never stopped working for the organization and continued to be closely associated with them. The lying and deception that this organization used against our family continued to grow.
We also later learned that Mr. Gutman is an attorney with a long reputation for defending "cults"--groups such as the Church of Scientology and Rev. Moon's Unification Church. In fact, he is recommended by the so-called "new Cult Awareness Network" now largely controlled by the Church of Scientology. If IYI were not a cult, why would this attorney be retained?
Our home under siege
On April 24th, at 9 AM, Catherine suddenly appeared at our home, unannounced, and began pounding on the door. Fearing that at this point she had come to provoke an incident, and recalling the outrageous claims and legal threats made, I left a note on the door advising her that we hoped to see her soon under conditions agreeable both to Yogaville and to us. As I left my note, my daughter rushed towards the door from behind one of our bushes. I quickly closed the door and locked it. She appeared disturbed, in a rage, and again began pounding on the door. It seemed that any supposed fear of me or our family had abruptly vanished.
Again, on April 25th, at 9:30 AM, my daughter returned to our home and began ringing the doorbell continuously for hours. I had to disconnect it. She then began banging on our door so loudly that the neighbors came out to see what was going on. I glanced at her through our windows. Her face seemed covered in a bright red rash and was very swollen. I had never seen her face look like that before. At 11:00 AM, she again called from a neighbor's house and left another note under our door. She reiterated that her husband's job had been terminated. She said, "If you want to see me you have to make the arrangements with me. There is no other way. " Again, this was clearly an attempt to circumvent a negotiation process we were pursuing through Mr. Ross. She also said that they could not return to Yogaville unless we gave our consent. My family would have to give our consent for them to go to Yogaville? This had really become bizarre. At about 4:30 PM, Catherine returned to the house and began banging on the windows with a broomstick. This continued until about 11:00 PM. During this time, Larry Gross my new "son-in-law", stood by his car--seemingly directing my daughter's actions.
It was sick and cruel for Yogaville and/or Mr. Gross to apparently use my daughter as a pawn to strike at us in this way. My family became fearful to even leave our home.
The next day, April 26th, the situation became worse. At 7:00 AM, as my wife and son tried to leave our house, my daughter lunged for the door. She had been hiding to the side of the doorway, unseen. My wife screamed. Catherine almost got inside and yet seemed to have a panicked look on her face, as if she didn't know what she would do if she did get inside. At that point she turned back to look to her husband for assistance, as if to ask him what she should do if she went inside. My wife and son were able to prevent her from entering. However, in the fracas, my wife's leg was injured badly from being wedged in the doorway and my son's coat was badly ripped. My wife required treatment from a doctor. Again, during this incident my "son-in-law" sat in his car appearing to supervise my daughter's actions. At other times, he also walked back and forth in front of my home in an intimidating manner. I stayed home from work that day to protect my family.
We later learned from a neighbor that our daughter did not know her own mother's name. On the previous day, Catherine ran to a neighbor's door thinking her mother was there. When our neighbor asked my daughter who her mother was she was so confused she could only say, "a Chinese lady". When the neighbor mentioned my wife's name, Catherine agreed that this was who she was looking for. My daughter and wife share the same first name.
At 10:00 PM, on April 26th, I received a call from Catherine's godparents. They said that my daughter and her husband had come to see them and had been there for several hours. Larry Gross said that they had come to ask them to speak on their behalf. I told them not to get involved or let them stay in their home. They ate and left. My daughter said she now wanted to see her parents very much, but feared Mr. Ross. Catherine claimed he would try to strap her down and perform psychological torture on her. She seemed deeply disturbed.
Meeting with Catherine
Finally in May, after protracted negotiations through lawyers, we arranged for a reasonable time and setting for meetings with Catherine in New York. This would be the first time, since before Christmas, that we would be permitted to see her without Yogaville staff present. According to a signed agreement, these meetings were to last nine days. Our fear was that Catherine had totally lost her independence and that she was being completely manipulated and controlled by her new husband and the Yogaville staff. We wanted to be assured that our planned meetings would be free of any such control. We hoped to have a meaningful discussion with Catherine, in which she would be free to express herself independently, ie., specifically free from the influence of Larry Gross or any other Yogaville or IYI members.
The meetings began on May 24th 1999, but ended after only three days. Larry Gross ignored and repeatedly violated the agreement. In retrospect, it appears he negotiated and signed it in bad faith. He continued to control and manipulate Catherine through lengthy phone coaching sessions every evening, even though this had been clearly and specifically been prohibited by the agreement he had signed. These lengthy phone sessions with Gross resulted in seemingly scripted, bizarre behavioral disruptions every day. During these meetings Catherine exhibited both a mindset and personality not at all characteristic of the daughter we know and love. It was deeply distressing for our family to witness this and to have many of our worst fears substantiated regarding Catherine's extreme dependency upon the group and Mr. Gross.
Larry Gross and IYI would not even allow our daughter a few days to discuss our concerns independently without their influence--even after months of totally controlling her environment and communication. All we wanted was an opportunity to dialogue with Catherine outside of Yogaville. It was implicitly understood that we would accept her decisions. But we never had a chance to complete our discussion, which appeared to have been willfully sabotaged.
Warning
We are deeply disappointed with the officials of IYI and Yogaville. We are saddened with the way they have treated our family. We have decided to publicly share our concerns. We feel it is critical for us to share such information and warn others so that hopefully no other families or individuals will suffer as we have at the hands of this organization.
The LYT Program that our daughter had so eagerly entered into has resulted in the total devastation of our family. We had hoped that the leadership of Yogaville and IYI would treat our family with understanding and compassion. They have said that it is their desire to "serve" humanity. But instead we have alternately been ignored, vilified and at times even ridiculed. Had we known that the leaders of Yogaville were like this we would have warned Catherine to stay away. Now we feel compelled to warn our loved ones, friends, and neighbors to stay away from IYI classes and Yogaville.
Catherine is an adult. If this is truly the path that she herself has in fact decided to follow, then our family does not intend to stand in her way. But the suddenness with which this all has occurred has caused us to seriously doubt Catherine's independence regarding her decision-making. For example; her abrupt termination of law school (after asking us to register her only 5 days before), suddenly ending her relationship with a long time boyfriend (who she had just told she wanted to be with "forever" before leaving for Yogaville), leaving her home in New York and then cutting herself off from her friends and family so abruptly. Why would Catherine suddenly feel "really afraid of" us after a lifetime of close and loving family relationships? It also seems odd that Catherine decided to marry a man 30 years older than her after only knowing him for two weeks. She even changed her name. All of Catherine's interests shifted so suddenly such as law school, her boyfriend, and Spanish studies--she even abandoned all of her possessions left at home. We also found out that all of her mutual fund money now seems to be controlled by Larry Gross and/or Yogaville.
Taking all these things into consideration it seems to us that Catherine's sudden personality changes and bizarre behavior since arriving at Yogaville are no coincidence. We also feel that Yogaville's seeming unwillingness to allow our family to meet with Catherine alone is deeply disturbing. Frankly, Catherine's involvement at Yogaville seems specious and NOT to have been the result of a deliberative process subjected to objective critical evaluation, thinking or meaningful open discussion.
We wish to warn anyone who may have family members or friends involved in any way with the Integral Yoga Institute, its classes or Yogaville to BEWARE. Based upon our own direct experience with this organization and its leaders we believe they may be potentially harmful and destructive to you and your family as well.
Note: Despite statements made by Catherine Cheng (now called "Meenakshi" Gross), her husband Larry Gross (aka "Sundaram") and leaders at Yogaville, which claim Catherine and Larry are no longer associated with Yogaville--a letter posted March 2001 on the Yogaville Web site proved otherwise. Both "Meenakshi" and "Sundaram" were listed prominently amongst "20 Western devotees" who "came [to India] to pay respects to Sri Gurudev [aka Swami Satchidananda]...with offerings" at a celebration attended by Yogaville's supreme leader. Shortly after their trip to India, Larry Gross and Catherine Cheng moved back to Swami Satchidananda's community and are now once again residents of Yogaville. Larry continues to handle legal matters for Yogaville and its interests. He also solicits business from the mainstream Hindu community within Virginia. "Meenakshi Sundaram" (aka Catherine Cheng) has become a "Certified Integral Yoga Hatha Teacher" and conducts classes at a center not far from Yogaville, in the nearby town of Buckingham, Virginia.
To see more documents/articles regarding this group/organization/subject click here.