Donna Karan and DKNY promote a "cult"?
June 1999


By Rick Ross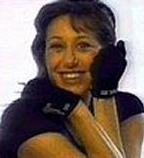 Donna Karan
Donna Karan spent more than $1 million on a 128-page "stand alone insert" for "Vanity Fair". The insert was published and circulated shrink-wrapped with the popular "Hollywood [April] Issue" of the magazine.
Featured within are DKNY's collection of clothing and accessories. But slipped inside along with plentiful photographs of models posing in Karan's fashions is a list of "our favorite classes". This is a perforated easy-to-remove inserted card which seems to reflect a seemingly fashionable pick of the best classes available--from "wrestling" to "skateboarding" in the "Big Apple". One such class chosen by DKNY for its list under "Yoga" was "Integral Yoga International" (IYI) located at 227 West 13th Street and 200 West 72nd Street in Manhattan.


DKNY building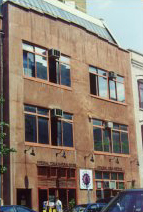 Integral Yoga building, New York
The IYI classes cited are associated with the teachings of a controversial Indian guru named "Sri Swami Satchidananda". The Swami also maintains an isolated ashram called "Yogaville" in Virginia, which is the home of many of his most devoted followers. Though most would consider yoga a practice and not a religion--Yogaville maintains religious tax exempt status.
Swami Satchidananda came to the United States from India in 1966 as part of a new trend popularizing neo-eastern gurus that began with the Beatles embrace of the Maharishi Mahesh Yogi. Satchidananda like Maharishi was often promoted and supported by celebrities (e.g. Carol King, singer/songwriter who donated the funds to purchase 600 acres of land for Yogaville and Peter Max, artist). Perhaps a holdover from the 60s--Satchidananda even attended the famous rock concert Woodstock.
Like other gurus before him and many since Satchidananda found the United States fertile ground for his own brand of eastern mysticism. His following quickly grew to something like a religious sect and he never returned to his native country--except to visit.


The Lotus Shrine
Swami Satchidananda claims to embrace a kind of ecumenical approach to faith in which every religion is supposedly appreciated as a different, but seemingly equal path to God. He even built a lavish structure called the "Lotus Shrine" on his ashram acreage seemingly dedicated to this principle. However, though his most devoted followers come from different religious backgrounds many have chosen instead to embrace their leader's expressed path of Hinduism. But it should be noted that "Hinduism Today", a respected journal regarding the Hindu religion, has listed IYI in an article questioning certain groups that claim to observe the tenets and principles of "Hinduism".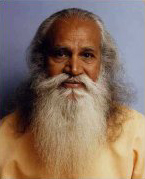 Swami Satchidananda
Satchidananda has had his share of scandal and controversy. Many of his most devoted disciples left the guru amid a flurry of serious allegations of sexual misconduct. The Montreal Mirror reported that Susan Cohen once a disciple of Satchidananda "calls the swami's community a 'cult'" and feels he "involved her in an 'incestuous secret affair.'" She explained, "the swami and his students work in a type of father-daughter relationship that leaves women confused and unable to say no, a type of 'spiritual incest'...she said she [had received] calls from all over the country with similar stories."
Sylvia Shapiro was a 19-year-old student of Satchidananda in California when he asked her to travel with him. According to reports he was once "the greatest influence in her life, her guru, who taught his unmarried followers to remain celibate, [but] was urging that she have sexual relations with him". Ms. Shapiro said. "I really loved him like a father. I didn't want to make him angry."
After his former secretary Sylvia Shapiro made accusations of sexual misconduct Satchidananda was quoted in the "Village Voice" newspaper (1976) as saying: "Don't judge me, I am your guru. If you choose to believe it you can leave right now. Or, if you have faith, you can stay and continue in my service."
A former 12-year disciple of Satchidananda Joy Zuckerman concluded, "He said he was just here to serve humanity and had no ego or selfishness. I think, very subtly, he switched the teachings so they were to serve him." Though Ms. Zuckerman was not sexually exploited she still felt abused stating--"I feel I've been abused in other ways...I renounced everything, sold my home, left my family gave $20,000, which a lawyer is now trying to recover."
Update
Though the unhappy former members quoted by the press in 1991 left some time ago--in recent interviews they continue to confirm the sexual misconduct of their one-time supposedly celibate swami and the abuse they experienced through his organization. Susan Cohen, now a mental health professional, insists that she experienced a form of "mind control" or "brainwashing" through her experience with Satchidananda, his teachings and ashram. Sylvia Shapiro is now an attorney and still sadly recounts her sexual exploitation. Joy Zuckerman never recovered her assets and was forced to start her life over again after more than a decade of devotion to Satchidananda and his teachings.
Satchidananda's spiritual empire shrinks
Before news of a sex scandal spread during 1991 IYI claimed to have 50 centers in the United States and six in Canada. But by 1996 the effects of published reports regarding allegations against Swami Satchidananda and the treatment of his followers seem to have caused his influence to decline. In 1996 IYI reported 23 centers in the United States and four in Canada. Many of the Swami's most devoted followers appear to have departed from Yogaville, which may have lost as many as half of its residents over the years since 1991. Likewise, the number of IYI teachers, according to a recent association report is shrinking.


IYI Natural Food Store
But it should be noted that substantial assets totaling millions of dollars remain as a residue of better days. This includes substantial real estate holdings in Manhattan (site of the classes recommend by DKNY) and Virginia, Integral Yoga Natural Foods and Integral Yoga Natural Vitamins located in Virginia and New York.
Interestingly, in a recent report the President of Yogaville, a long-time devotee of Satchidananda, seemed concerned about the group's future--Satchidananda is now nearing ninety. He admitted that members of the ashram have "felt beaten down by the inhumanity of the system". However, the group does not appear to have actually changed significantly over the years, nor does it seem to value meaningful checks and balances regarding its member's conduct and the power of their influence.
Problems persist at IYI New York Center and Yogaville
Once again serious complaints swirl around the Swami's ashram, IYI and its influence. One young woman who attended the same classes recommended by DKNY in Manhattan has caused alarm amongst both her family and friends. They claim to have observed radical changes in her behavior, personality and thinking, which seem to have occurred as a direct result of her involvement with IYI and Yogaville.


Main building at Yogaville ashram in Virginia
The young woman, a law student at CUNY, attended IYI classes for a brief period before Christmas break in 1998. She had a close relationship with her family, was planning marriage with her long-time boyfriend and looked forward to practicing law. After attending IYI classes she decided to participate in a one-month residential program at Yogaville. But the program never really ended for the CUNY student. In a matter of weeks, while within Yogaville, she abruptly decided to drop out of law school, isolated herself from family and friends and married a "swami" (30 years older) she met while attending the ashram program. Her husband, the now former celibate swami, is a prominent long-time Yogaville member/Satchidananda devotee. Her family feels she has been manipulated and subjected to undue influence through her involvement with IYI and its programs.
Inside the elaborate DKNY booklet its introduction describes "New York City [as] a different state of mind" and a "magnet for the eclectic. A haven for the extraordinary. The ultimate collision of extremes". Just how extreme does DKNY mean? Does Ms. Karan's vision of an "eclectic&haven for the extraordinary" include promoting a "cult" that generates serious complaints led by a Swami with a sordid history, which includes allegations regarding the sexual exploitation of women members?


Front door of IYI in New York
The practice of yoga has become quite popular recently and it has millions of enthusiasts--many in the United States. It is understandable that Donna Karan sought to follow such a popular trend. However, what would seem difficult for DKNY to deny is that it had a responsibility to do better research before specifically promoting IYI yoga classes. As a direct result of DKNY's endorsement some may decide to include Integral Yoga as one of their own "favorite classes". How many young women that follow fashion will now pursue, due to Ms. Karan's influence, the same path tread by a young CUNY student who attended classes in Manhattan? Then they might too be subjected to the same training and influence that appears to have ended in one family's heartbreak.
Copyright © 1999 Rick Ross.
To see more documents/articles regarding this group/organization/subject click here.